Custom Designed Splice Protector Sleeves
In addition to our standard ranges of fiber optic fusion splice protector sleeves, at our R&D facility at Swindon, UK we also design and develop new products to our customer's requirements.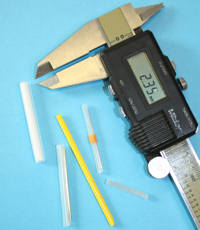 Recent developments have included:
'Flexible' pinless splice sleeves
Extra long splice sleeves up to 90 mm
Dielectric (non-metal) pin versions
Micro series sleeves down to 10mm in length
Ribbon fiber sleeves both pinless and 20mm long
3A series splice protectors 12mm long
Large 3mm bore splice protector sleeves
Splice sleeves with non-standard materials, colors and tints
Subject to minimum order quantities we will be pleased to develop, prototype and provide sample products to meet your particular specification.
Contact us
today to discuss your requirements.