Fusion Splice Protector Sleeve - Installation Guide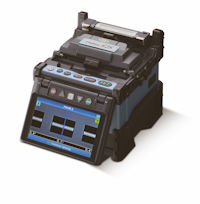 Fusion Splicer Ovens
There are a wide variety of fusion splicers available on the market each with a varying design of shrink oven. Older designs like the Tritec HSOII and the popular Fujikura 62S utilise a manual single sided heated tray, whilst the latest fusion splicer ovens including the Fujikura 70S utilise an automatic dual heater clamping plate design.

Older shrink ovens operate a slower heat/time profile requiring standard splice sleeves to be heated at a lower temperature for a longer cycle time, typically 125°C for 60 seconds.  Modern single and dual heater machines typically utilise higher temperatures of typically up to 240°C and can heat FinishAdapt Micro and Mini 6A series splice protection sleeves in just 10 seconds and our Standard 3A series in typically 25 seconds.

Temperature / Time Setting Guidelines
Nominal settings based on using the Fujikura 62S & 12S fusion splicer ovens


Product Range
Temperature (degree C)
Time (seconds)
Stainless Steel Pin Range - Single Fiber
6A Micro (6A-U)
180
10
6A Mini (6A-PS)
180 - 220
15 - 20
6A Midi (6A-M)
220 - 225
20 - 25
5A Standard (PS-5A)
220 - 235
25 - 35
3A Standard (PS-3A)
220 - 235
25 - 35
3A US (PS-3A-US)
220 - 235
30 - 35
3A US Large (PS-3A-USL)
235 - 240
35 - 45
1AS Large (PS-1A-S)
220 - 235
35 - 40
1A Large (PS-1A)
220 - 235
35 - 40
2A Extra Large (PS-2A)
235 - 240
40 - 50
Non Metal Pin Range - Single Fiber
3D FRP pin (PS-3D)
220 - 235
25 - 30
Flexible Pinless Range - Single Fiber
6A Micro (6A-UNP)
150 - 160
12 - 15
6A Mini (6A-NP)
180 - 225
10 - 20
154 Mini (PS-154)
180 - 225
10 - 20
3A Standard (PS-3A-NP)
225 - 235
25 - 35
Ceramic Pin Range - Mass Ribbon Fiber
Ribbon (PS-94)
200 - 225
25 - 30
Ribbon (PS-99)
235 - 240
40 - 45
Oven Setting Guidelines
These settings are a guide only and are based on using the Fujikura 62S fusion splicer oven.  Settings will need to be adjusted when using different fusion splicer shrink ovens.
Most splice ovens have pre-set and user programmable options.  Some ovens also have pre-sets for particular manufacturer's splice sleeves.  These pre-sets can often be modified, so refer to the user manual to ensure that the pre-set cycle times and temperatures have not been changed prior to use.
It is also important to note that some oven 'Heat Time' settings may also include the 'cool-down' period.  Check in your splicer operating manual and adjust the oven heating time accordingly.
The heater temperature and cycle time must be adjusted to take account of the following variables:
Splice protector type/diameter
Splice protector length
Shrink oven heater type used
The condition of the heater battery
The ambient temperature
The operating environment (wind, rain, humidity, etc)
Adjust one parameter at a time, heat setting or cycle time until a satisfactory result has been achieved.
Caution:  Simply selecting a high temperature and/or short cycle time may result in insufficient adhesive flow around the fiber joint and only shrink the outer material.  The inner adhesive needs the appropriate time to melt and flow around the optical fibre to form a good reliable splice.