Packaging Options
Standard Packaging
Our standard fiber optic fusion splice protector sleeve packaging is in clear plastic bags in quantities of either 50 or 100 pieces, depending on product type. These are then packaged in clear, labelled plastic grip seal over-bags containing 1,000 sleeves.
Please refer to Product Specifications for details.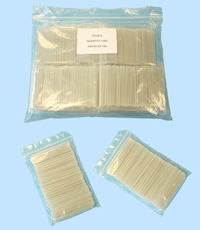 Customized Packaging
At our packaging facilities we provide a fast worldwide custom packaging service.
We are pleased to provide customised labelling and packaging with customer specified bag quantities and labels.
Please contact us to discuss your requirements.