Fiber Optic Fusion Splice Protector Sleeves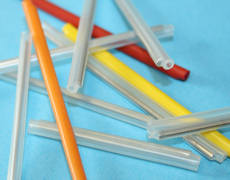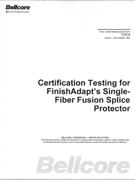 FinishAdapt's fusion splice protector sleeves are designed to restore the environmental and mechanical integrity of optical fiber cables after fusion splicing.
The full range of Standard Splice Sleeves and technical specifications may seen on our
:
Product Range Details page and DATA SHEETS
Technical Selection Guide
Full Product Line Card
For a Competitive Quotation click here
Unique Features and Benefits
Pre-shrunk heat bonded assembly
Single opening for the fiber prevents incorrect assembly
Adhesive liner creates an environmental seal
Range includes Bellcore/Telcordia and BT Approved splices
All protector sleeves are RoHS and REACH Compliant
Over 24 years experience of manufacturing splice sleeves
Large range of standard sizes and types available
Custom products designed and manufactured
Over 5 million splices held in stock for immediate delivery
Construction
Our fiber optic fusion splice protector sleeves are manufactured pre-shrunk in a heat-bonded assembly that consists of three components:
An inner tube of hot-meltable adhesive
An outer of heat-shrinkable tubing
A reinforcing strength member

The hot-melt adhesive inner tube bonds to both the fiber and the heat shrinkable outer tube to encapsulate the fusion splice joint and provides vibration damping and an environmental seal, protecting the fiber from damage and contaminants.
The outer high quality irradiation cross-linked polyolefin heat shrinkable tubing provides an instant shrink-force and drives the adhesive liner into all areas of the splice and excludes all the air.
A choice of strength member (stainless steel, ceramic or non-metallic) provides additional rigidity to prevent misalignment, micro bending or breakage of the fiber.  Flexible pinless splice sleeves are also available.
The complete assembly is pre-shrunk, providing a heat bonded assembly.  This guarantees the sleeve components will not move or come apart during shipping or during installation.  
Our pre-shrunk design also provides the advantage of just one aperture, the inner tube that is visible at each end of the splice sleeve.  This single opening provides greater assembly accuracy and repeatability and prevents the misplacement of the fiber.

Our fiber optic fusion splice protector sleeves are compatible with all splice sleeve ovens and trays. Custom sizes and lengths can also be manufactured to customer's specification.
Approvals
The splice sleeves and the materials used are manufactured in an ISO9001:2008 accredited environment. In addition FinishAdapt holds Telcordia (formally Bellcore) Certification and has BT approvals for a number of it's splice sleeve protectors.
For a Competitive Quotation, Samples or Further Information, contact us now.
Click here to send an email message to sales@finishadapt.com